The Nancy Quinn Fund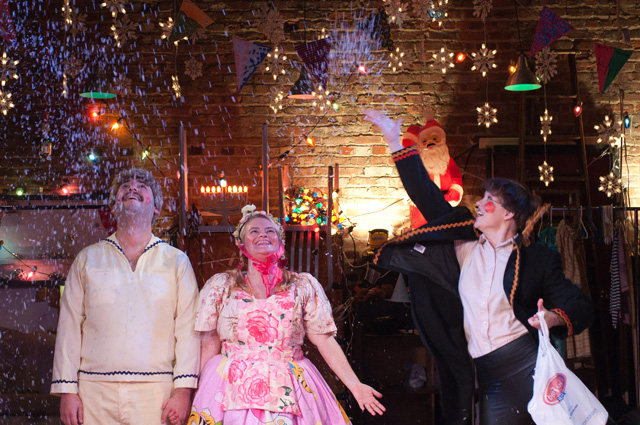 Little Lord's' production of Babes in Toyland. Photo by Daniela Mullady.
The Nancy Quinn Fund was created in honor of Nancy Quinn, one time A.R.T./New York board member and former Artistic Director of Young Playwrights, Inc. Ms. Quinn strongly believed in the importance of giving young talent an opportunity to "have their say." She showed tremendous respect for the voices of the next generation of artists and was committed to fostering the work of new, emerging, and small theatre companies. After she passed away in 1993, A.R.T./New York launched the Nancy Quinn Fund to assist its largest and most rapidly growing sector of member theatres – those with annual cash budgets under $100,000 – by providing management seminars, annual grants, and other services designed to help companies facing the challenges of producing in New York City.
Often on the cutting edge of the theatrical experience, these small theatres frequently produce world premieres that launch new careers, technology, techniques, and plays into the American Theatre lexicon. Despite the number of companies this size, however, very few funding resources are available to them. The Nancy Quinn Fund is designed specifically to help fill that need by providing general operating grants to those companies with budgets under $100,000.
New in the 2018 Grant Cycle:
Grants range in size from $750 to $2,500 with no grant exceeding 10% of the theatre's expenses for its most recently completed fiscal year. If your organization's budget is less than $7,500, apply for the $750 minimum grant. If your most recently completed fiscal year was unusually small, you may take the average expenses of your last two completed fiscal years.
Grantees can find information on crediting policies and language here.
APPLICATION DEADLINE
The application for the 2019 Nancy Quinn Fund will open on Monday, February 4th and close on Monday, March 11th, at 5:00pm.
ELIGIBILITY
Applicant must be a Full, Associate, or Independent Producer member of A.R.T./New York in good standing.

Applicant must have had annual expenses totaling under $100,000 for its most recently completed fiscal year.

Applicant must primarily produce in one of the five boroughs in New York City

Applicant must have participated in Organizational Planning and Process Part 1 and Part 2. The one-on-one individual session is not required. The theatre does not have to have participated in this year's sessions if it participated in past years.

Applicant must not have an outstanding final report from previous years' grant cycles.
A company does not have to be incorporated or have 501(c)(3) status to apply.
2018 Guidelines, Eiligibilty, and Evaluation Criteria »

Please review this information in full before applying
GRANT ASSISTANCE
Grant Work and Information Sessions
These sessions, held in our Manhattan office and online, will be hosted by A.R.T./New York programs staff who will walk applicants through the application and guidelines. Applicants are welcome to bring questions, and are strongly encouraged to read the application and guidelines before coming to the session.

Grant Work Session:
February 5, 2018, 5:30pm - A.R.T./New York Office, Manhattan »



Grant Info Session:
February 7, 2018, 1:00pm - Facebook Live »

Watch the Facebook Live Recording »
Narrative Statement Review
Applicants who wish to receive comments on a draft of their narrative before submitting their application may send a draft and receive comments from the A.R.T./New York Programs team. Drafts must be sent as a PDF attachment with your company's name in the filename by Wednesday, February 14, 2018 to Corinne Woods, Programs Coordinator, at [email protected] to ensure feedback in a timely manner. Please review the guidelines for this process in our Grant Guidelines.
For more information about this program, please contact Corinne Woods, Programs Coordinator, at

[email protected]

or (212) 244-6667 ext. 241.

FOR CURRENT GRANTEES

Grant crediting guidelines and language »
2018 NANCY QUINN FUND GRANT RECIPIENTS
The Assembly Theater Project
Blessed Unrest
Boomerang Theatre Company
Broken Box Mime Theater
Buran Theatre
Circus Amok
Concrete Temple Theatre
Drama of Works
The Drunkard's Wife
Everyday Inferno Theatre Company
Falconworks Theater Company
The Farm Theater
Flux Theatre Ensemble
General Mischief Dance Theatre
Group .BR
Hedgepig Ensemble Theatre, Inc.
Honest Accomplice Theatre
id Theater
Immediate Medium
IRT Theater Inc
Kyoung's Pacific Beat
La Troupe Makandal, Inc.
LaMicro Theater
Little Did Productions
Live Source Theatre Group
National Asian Artists Project, Inc.
The New Stage Theatre Company
New York Deaf Theatre, Ltd.
New York Theatre Barn
Noor Theatre
Parallel Exit
Peculiar Works Project
Piehole
Pioneers Go East Collective, Inc.
Project Y Theatre Company
RESTLESS PRODUCTIONS NYC
Rising Circle Theater Collective
Rising Sun Performance Company
Smoke & Mirrors Collaborative
Spellbound Theatre
Steps Theatre
Superhero Clubhouse
The Syndicate
Torn Out Theater, Inc.
UP Theater Company, Inc.
WaxFactory
The Nancy Quinn Fund is made possible in part by generous funding from the Mental Insight Foundation and the New York State Council on the Arts.
Header: Irish Repertory Theatre's production of Finian's Rainbow. Photo by Carol Rosegg.