Office Space
One of the critical issues facing theatres today is the need for affordable office space. Without an appropriate office, it is difficult for companies to continue to grow, expand their artistic programming, effectively manage their time, and in some instances, hire a staff or find interns. In 2000, A.R.T./New York purchased its first shared space facility to help address this challenge. Today, A.R.T./New York's two facilities house a combined 41 offices occupied by our member companies.
JUMP TO: Brooklyn Offices | Manhattan Offices | Mailbox Rental


---
LuEsther T. Mertz South Oxford Space
138 South Oxford Street
(Between Atlantic Avenue and Fulton Street)
Brooklyn, NY 11217
(718) 398-3078
[email protected]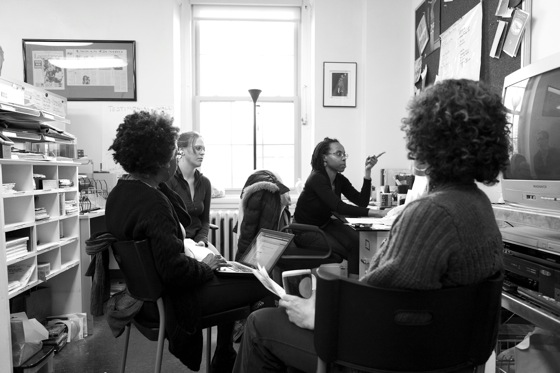 Urban Bush Women's office at LuEsther T. Mertz South Oxford Space
Located in Fort Greene (near downtown Brooklyn and BAM), the LuEsther T. Mertz South Oxford Space is a five story, 19,200 square foot Federal Style building that provides office space to 20 small and mid-size theatre companies for below-market rate, and subsidizes utilities and storage space. In addition to individual offices, the building has a variety of shared facilities and amenities such as rehearsal studios, a kitchen, and a mail room.
The LuEsther T. Mertz South Oxford Space also plays an important part in the Fort Greene community. The intimate Gallery Three displays the work of local visual artists and the beautiful second floor Great Room is used for small-scale concerts, dance and theatrical presentations, and for community meetings.
The LuEsther T. Mertz South Oxford Space is fully occupied at this time.  Please email [email protected] if you would like to be placed on our waiting list to rent office space. Mailbox rentals are currently available (see below for more information.)


Current tenants at LuEsther T. Mertz South Oxford Space
ActNow Foundation, The American Opera Project, ArtsPool, Beth Morrison Projects, The Civilians, Colt Coeur, DreamStreet Theatre Company, Encompass New Opera Theatre, EPIC Players, Jamel Gaines Creative Outlet Dance Theatre of Brooklyn, Laban/Bartenieff Institute of Movement Studies, Lone Wolf Tribe, New York Deaf Theatre, Nia Theatrical Production Company, Poetic Theater Productions, Shadow Box Theatre, The TEAM, Urban Bush Women, viBE Theater Experience, White Bird Productions